This fishing product is a must have for all the big game fly fishers, the big fish jigging brigade or more recently with the advent of serious spinning reels the glutton for punishment marlin anglers.
The Big Game Rod Clip can be mounted in a variety of positions on almost any rod and reel combination.
Test and find most suitable position for your fishing discipline and pre tape this area for size and easy identification prior to fishing, this allows the angler to fish freely until the clip is needed whereby the angler simply clips the unit on to the rod position that has been pre taped and attaches the harness to the Big Game Clip.
"As is company policy the Big Game Clip has been designed through an exhaustive testing program to ensure that this unit is equal to all fishing situations."
Details
Length: 120mm
Width: 30mm
Height: 40mm
Weight: 280g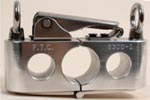 The Big Game Clip is manufactured to the highest standards and materials used are the best available these include T6 marine grade alloy and 316 grade stainless steel, this unit is designed to give many years of use and serious abuse.
Big Game Clip Price 160 AUD