The Orb Lure is the most recent edition to our big game lure range (2000) it has taken many years in research and development to bring you a lure that is worthy of being different and the Orb Lure is certainly that.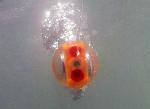 This lure design has had outstanding success in the major Marlin tournaments world wide in recent years.
Details
Speeds: 5-9 Knots.
Sizes: 225mm - 400mm / 9" to 16"
Cost: 45 - 120 AUD

The Orb lure is modeled on the highly successful gill thruster lures but only in concept, the obvious difference not only being in the shape but also the amount of water turbulence and bubble trail created by the inlet and exhaust holes used on this lure, This shape as a sphere lends itself to a crazy action coupled with a tremendous bubble trail that certainly lets it stand out in the lure spread.
The combination of this style of sphere head gives to a lure with good water penetration and running depth with no blowouts within reason, this means the Orb lure can be run at speeds above what we actually recommend using a lower tow point in good conditions, this is achieved by using the correctly designed inlet and exhaust holes where if the lure breaks the surface the inlet holes immediately pull the Orb back below the water surface and back to the action that it was engineered for, and that is psycho!.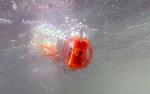 The Orb lure like all our tackle is handcrafted using only the finest materials available and as for all our lures includes a brass center tube for strength and weight that is double reamed at each end in order to negate the need for leader sleeves.

The Orb lure can be run in any position in the lure pattern and in all conditions.

The Orb lure was designed after a long and arduous R+D test program using techniques from the specialised engineering backgrounds within this company, We will continue to produce unique and innovative tackle that has been tested worldwide for actual results and to a level of quality that has stood us well and has been the backbone of this company for a very long time, any other method where the quality of any of our products is compromised we can assure you it is not a path this company will be taking as we take our hard gained reputation within the worldwide big game fishing community very seriously.
The Orb Lures are available in all head colours.

The Orb Lures are a Patent Pending product of The Frozen Tree Company®.


Orb Prices.
| | | | | | | |
| --- | --- | --- | --- | --- | --- | --- |
| Size | Line Class | Orb | Shipping Weight | | | |
| Medium 9"/225mm | 8KG+ | $45 | 75gms/2.65oz | | | |
| Large 11"/275mm | 15KG+ | $67 | 115gms/4.05oz | | | |
| X Large 13.5"/340mm | 24KG+ | $88 | 190gms/6.70oz | | | |
| Colossal 16"/400mm | 37KG+ | $120 | 300gms/10.60oz | | | |