The Classic Salmon Flies on display are from the original patterns and style gleaned from people who make fishing the great salmon rivers of Scotland their life. Today fully dressed salmon flies although not relegated to the display cabinet completely have always given not only the fisherman but also the fly tier a real sense of nostalgia as most definitely the art of tying these flies is dying. It is interesting to note that until the 1960s when synthetic materials started to appear on the market fully dressed salmon flies were the anglers choice of weapon and a highly successful one so did the piscatorial quarry of the fly angler change its habits after 400+ years we think not.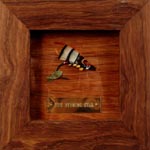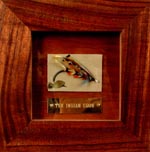 The Classic Flies we produce use only substitute feathers where absolutely necessary as some of the patterns requires feathers from birds that are highly endangered and some feathers from birds that are long extinct. All flies are mounted in exotic handmade Australian hardwood framed cases with identifying name plate and all materials used are of the highest quality. As this company is not a mass producer and due to the time involved to produce these pieces and the availability of certain feathers only a limited number can be produced and waiting times can sometimes be substantial. All patterns are available on request and date from the late 1700s to mid 1900s.
Prices for these exquisite handmade pieces start from $450 AUD.