This design from The Frozen Tree Company® takes the air bubble theory to a new level, Instead of the air bubbles exiting the rear of the lure, this new design has air and water turbulence exiting at 90 degrees to the actual water flow from the gill area of the lure giving the lure a more realistic look in actual use.

The Gill Thruster lure has a long winded swooping action with a slow surface breaking breathing cycle due to its angle cut cupped face and inlet hole, this gives this lure good water penetration and actual working depth with the ultimate bubble trail from the gill area of the lure.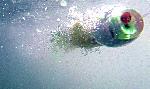 The Gill Thruster lure can be run in any position in the lure pattern and in all conditions.

The Gill Thruster lure like all our tackle is hand-crafted using only the finest materials available and as for all our lures includes a brass centre tube for strength and weight that is double reamed at each end in order to negate the need for leader sleeves.

The Gill Thruster lure was originally designed in 1979 since that time it has had excellent success worldwide, this success is testament to our original unique design and we can assure all, the only way our engineering background allows, we would also like all our clients to know that we aim to produce some of the highest quality hand made tackle anywhere and stand by it 100% and with our design and innovation we think it brings a new dimension to what big game fishermen think as reliable tools to catch fish.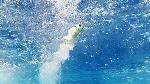 This lure has been a favourite with Big Game anglers for many years, a proven big fish lure with excellent tournament wins in all parts of the world.
Details
Speeds: 5-9 Knots.
Sizes: 225mm - 400mm / 9" to 16"
Cost: 45 - 120 AUD


The Gill Thruster Lures are available in all head colours.
The Gill Thruster Lures are a Patent Pending product of The Frozen Tree Company®.
Gill Thruster Prices.
| | | | | | | |
| --- | --- | --- | --- | --- | --- | --- |
| Size | Line Class | Gill Thruster | Shipping Weight | | | |
| Medium 9"/225mm | 8KG+ | $45 | 75gms/2.65oz | | | |
| Large 11"/275mm | 15KG+ | $67 | 115gms/4.05oz | | | |
| X Large 13.5"/340mm | 24KG+ | $88 | 190gms/6.70oz | | | |
| Colossal 16"/400mm | 37KG+ | $120 | 300gms/10.60oz | | | |